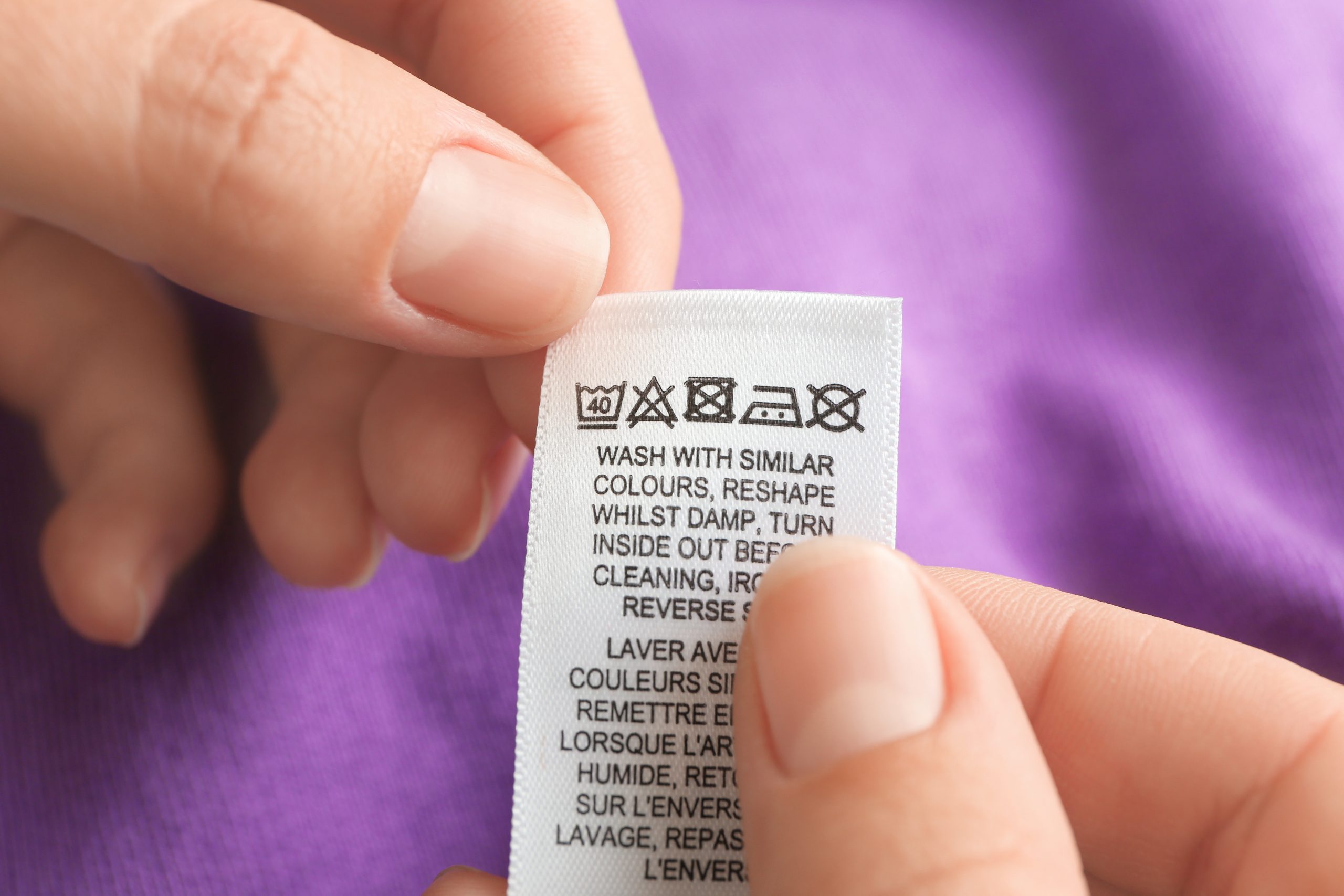 Do clothes fade with every wash or by dry cleaning?
This is a very common question asked by the salesperson while buying clothes or to a laundry service provider while giving them clothes for washing for the first time.
But we say that's a total myth if you wash or dry clean your clothes as per these methods.
1. Don't throw away your Care labels-
It is true to say that like humans even your clothes have an age after which they start fading and get wrinkled after being worn and washed multiple times. But if the same happens to you while washing your clothes for the first time, then you may need to practice considering your clothes care labels.
It is very important to study your care labels before washing as every clothing has its own need for washing or dry cleaning. Some may require machine washing with specific detergents, whereas some are just meant for handwash or dry cleaning.
Also, it is very important to wash your clothes separately or by handwash if colour bleeding is indicated as it may lead to colour fading and will change the colour of other clothes as well.
Therefore, it is highly recommended to give your clothes to professionals in these cases as they have better equipment's for washing and will make sure to maintain the quality of your clothes.
2. Always do a patch test before washing clothes-
Did you already ignore the first point and threw away your care label? Well, the best solution to your problem could be a patch test on your clothes. It is very easy to perform these patch tests in a few simple steps.
Take the corner of your clothes you feel might fade and wet it with water.
Gently take a pinch of detergent or softener in your hand and rub it on the corner of your cloth.
Once you're done wait for the cloth to dry and check if there's any colour fade or damage.
And voila, you will get an exact idea about how you need to wash your clothes.
3. Avoid too much detergent-
Have you been trying to add additional detergent or softener to your clothes just to make them smell better than usual? Nah. That's not how it goes. Doing this may cause a lot of stickiness in your clothes and also lead to residual of both in the clothes. Which further can cause high damage or colour bleeding.
And don't forget your water and electricity bills heightened because of extra spins in the washing machine.
4. Stop expecting a lot from clothes, even they get old-
Most people buy clothes with expectations that they might last forever. However, they get disappointed when their clothes start to lose their shine after multiple washes. It is very important to understand that everything has an expiry and so do our clothes. No matter if you wear and wash them regularly or wash them and wear them once a year, your clothes are still going to lose their shine with time. So why crib over it? Go and get some shopping therapy.
Looking for a Laundry near me? Connect with us by calling us or WhatsApp us at 800eezi.
---
How to treat Acne/ Pimples or Allergies on your face caused by dirty bedsheets or upholstery?
Have you been trying thousands of products for acne treatment or pimples, and nothing seems to work? Other than a burning hole in your pocket.
Or is it the technique of drinking 8-9 bottles that didn't work this time?
Here are a few tips that may help you reduce your acne or even allergies.
1. Bedsheet & Upholstery Bacteria-
There could be chances that your upholstery  may be the reason behind your acne. How? Well, certain kinds of bacteria may not be seen with the naked eye but can cause a lot of skin problems like cystic acne, fungal infections, allergies, reddishness, swelling, etc. This could be the result of having saliva on your pillow cover or impressions of oil stains caused by oily skin on your bedsheet or because of any sort of food particles left on the bedsheet and upholstery.
Therefore, it is highly suggested to wash or dry clean your bedsheet almost every week and upholstery at least within 3-4 months.
2. Animal Hair-
A pet in your life can be a great surprise but with great surprises comes great responsibilities. Since the animal skin is very sensitive, in some cases they might have hidden bacteria or dander between their hair, or their hair tend to fall very often. Especially when they rest on the carpets, bedsheets, or even touch your house curtains or clothes. Which may cause allergies like sneezing, acne, rashes, runny nose, facial pressure, etc.
However, these can be prevented if you take the following measure:
Clean your clothes or your bedsheets thoroughly.
Train your pet not to enter your bedroom or sit on your bed or sofa.
Wash or dry clean their bed and stuff toys regularly.
3. Poorly washed clothes-
It is right to say that acne on your body can be caused by the material of the clothes, but did you know it may also be caused by not washing or dry-cleaning clothes properly?
This could be a cause of harsh stains like sweat or food stains which do not go easily with endless washes or even leftover detergent in clothes that might seem like a patch or is almost invisible but may cause body rash and acne which may further be spread into your whole body and face.
Therefore, it is suggested to take the help of professional Launders or Dry Cleaners when it comes to washing sensitive clothes or even uniforms.
Having queries about Laundry/ Dry cleaning? Check this out. You can also call or WhatsApp us at 800eezi for any inquiry related to our services .
Or simply download our App to book our services on –
Google Play- https://play.google.com/store/apps/details?id=app.miracle.eeziclean&hl=en
App Store- https://apps.apple.com/app/id1481599055?mt=8
---
Are the Laundry services hygienic?
How many times does it come to your mind that your clothes are going to get washed with the dirty laundry of other people? Guess quite often. Human nature of course.
It is honestly speaking the most asked question when it comes to giving clothes to launder. And here we are to make one understand how Laundry/ Dry Cleaning Services are the safest and most convenient source is to receive fresh-and good-looking clothes.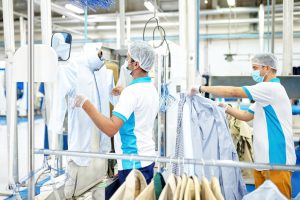 Reason why the online laundries in Dubai, always make sure to use professional methods while doing Laundry. Here's how-
Step 1: There are two methods through which the customer can get their Clothes Laundered or Dry Cleaned. First, by simply downloading the Laundry Application or calling on their Toll-Free no which allows you to receive contactless and hassle-free Laundry delivery within the same day or 42 hours. Second, could be done by any Laundry/ Dry Cleaning shop near you. Though there are various laundry stores available in parts of Dubai it's best to always make sure the Laundry has its own in-house team and mechanism than the ones who outsource. This way you can make sure the clothes have arrived at the counter in a hygienic way directly from the same Laundry reducing the chances of getting germs from any other source.
Step 2: Once the clothes reach the in-house team, the Laundromats separate the laundry based on its material and type. And then sanitize them to make sure there are no germs left in clothes before washing. Some laundries also provide services to wash COVID effective patients' laundry, however, it's safe to do so only if the Laundry is approved by the Dubai Municipality and follows their safety protocols. This means none of the COVID Laundry clothes go for washing along with the normal clothes.

Step 3: After, few hours of sanitization, the clothes are tagged and go through Quality checks wherein they are further separated to be either washed by the machines holding a set level of softener and detergent or go through Hand Wash.

Step 4: Once, the clothes are washed and ready to get delivered, the launders make sure to pack them in new and sanitized covers to make sure the clothes are aseptic.

Step 5: The clothes are then designated to the concerned driver or the counter staff who are fully vaccinated and take safety measures including wearing masks, gloves, and using sanitizers, especially after each delivery.
Most of the deliveries are contactless. However, in certain cases where the retail staff is involved or the volume is high, the staff and both the customers are always advised to use sanitization sprays before opening the laundry and leave it untouched at least for 5-8 hours and again spray before unpacking.
So now you know, the Laundry/ Dry Cleaning services are highly safe and extremely convenient. Want to know more about Laundry/ Dry Cleaning safety? You can call us or WhatsApp us at 800eezi.
---
4 Main Reasons as to why you need Laundry/ Dry Cleaning Services?
Are you the one tired of doing Laundry? And have to force yourself to wash your clothes and your entire weekend which is meant for me/family, time is spent in cleaning your laundry? Your only solution is to find and depend on a quality and reliable Launderer to save yourself from all this frustration.
Here are a few more reasons as to how going for a Laundry Service can improve your quality of living.
1. Easy, Convenient and Fast
There are several ways in which a Laundry/ Dry Cleaning Service can reduce your household chores and ease your day-to-day activities. For ex. the famous eeziclean, Home Care company, has the simplest and easy  Laundry App in Dubai that offers a wide range of services including Laundry/ Dry Cleaning, Bag Wash Services, Sanitization/ Disinfection, Carpet & Upholstery Cleaning, and Tailoring & Alteration.
You can download these applications and get free laundry service pickup and delivery within 48 hours as per your convenience and save your whole day enjoying your 'Me' time.
Not only within 48 hours but eeziclean Laundry Apps also have express deliveries which helps the customers to get their Laundry delivered within 6-24 hours as well.
So isn't it the most easiest, convenient and fastest way to maybe help you go out, watch a movie or take a long nap to remove all your tiredness of the whole week that you worked for and deserve.
2. Affordable
Tired of paying unnecessary water or electricity bills?  And constantly bearing the cost and choosing the right detergents, softeners and to machine repairs incase of breakdowns? Say no more, your only solution is a fine Laundry App.
Most of the people give up the idea of getting their Laundry done outside as it might be expensive whereas Laundry services sometimes turn out to be an absolute bang your buck.
And why would it be, in just very small amount you can save the cost of washing clothes or pressing them. And most of all you get free delivery and pick up, so you don't have to go from store-to-store by soaking all your energy or by spending loads on petrol.
3. Fresh Quality and New Like Results
One Wash, Two Wash, Three Washes, and your favourite dress is gone. Doesn't that happen quite often while washing your clothes. Well, there won't be a better laundry solution than eeziclean, the most reliable and competitive Professional Laundry Service provider in Dubai.
Every cloth is processed according to the care labels and delicate textile quality which further prevents your clothes from any colour bleeding and shrinkage.
What makes it even better are the regulatory inspections that take place before the delivery so that your clothes look fresh and give you new like feeling with every wash.
So, all you have to do is start your day with fresh mind and fresh clothes.
4. Powerful and Modular Technology
Laundry/ Dry Cleaning Services have high quality machinery and measured laundry equipment's set up by professionals who perform various measures to improve the standards of the whole washing procedure.
Can you imagine there are 3 different types of Pressing Machines existing in a Laundry Warehouse which helps remove the crease from clothes depending upon their type.
Well, that's the beginning. There are several hight tech machinery which help enhance the quality and fragrance, remove the stains, and gives perfect shine to your clothes.
So now you know, how choosing a professional and reliable Laundry/ Dry Cleaning Service can help you enhance your experience and ease your daily life.
---
Upholstery Cleaning Services, a saving or a headache?
Do you keep on avoiding cleaning your sofa or curtain for days and more days? But in the end, the day comes when you do shred tears while cleaning upholstery because there's no way you can bear your dirty upholstery anymore.
Well, you don't have to worry about them anymore.
There are certainly various methods to clean your upholstery at home but sometimes the household equipment's aren't enough to do so, and a good upholstery cleaning company remains the best solution to be called to rescue. Here's how-
1. Saves Money, Time, and Efforts 
Not every month could be the month when you buy new upholstery as you already invested a lot in one.
Therefore, you can hire a professional upholstery cleaning company that provides you services like carpet, rugs, or sofa cleaning and shampooing, steam cleaning, and upholstery dry cleaning. It is highly an affordable option and saves your money, time and effort too.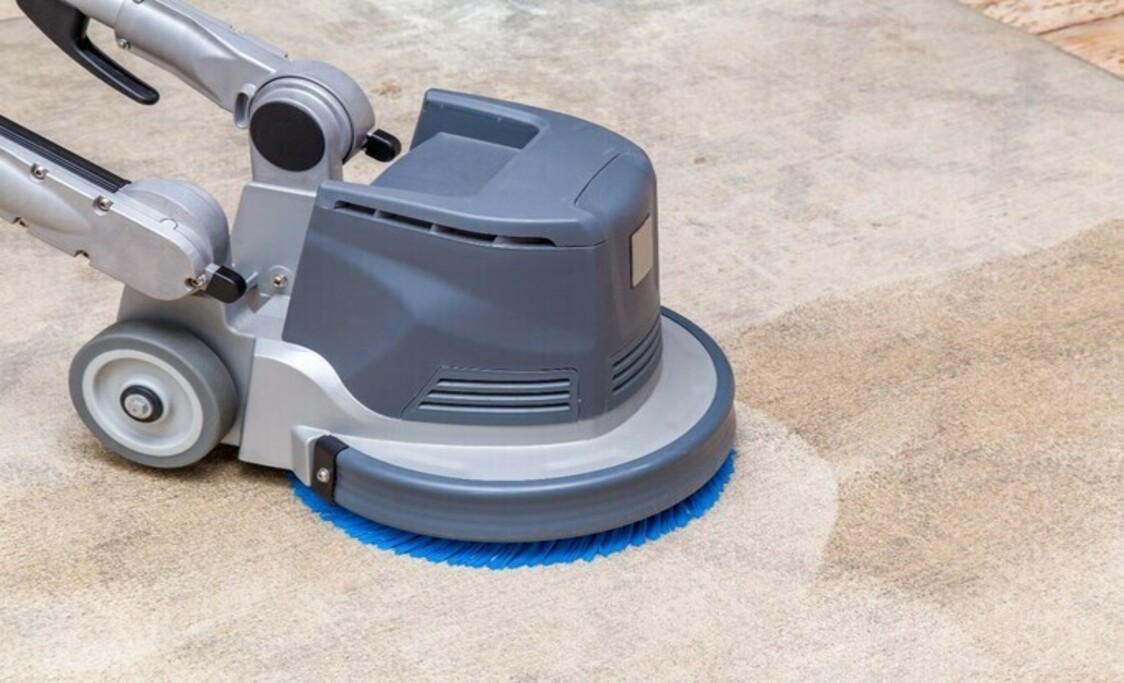 2. Prevents from Allergies
The delightful perk of hiring these services could also include that there is a certain amount of hidden microorganisms in our upholstery that cannot be seen with naked eyes, nor can they be removed by the domestic equipment that we generally find at home. We know that won't be the delightful part but what would be is having a pimple or allergy-free skin.
And about the unnecessary allergies. Yes, they go away too
3. Improves Appearance
An upholstery can never be hidden and stays in the limelight whenever you have a visitor. Isn't it?. Then why compromise over its outlook. Sometimes the harsh stains cannot be easily removed with the domestic equipment used for cleaning or washing and might worsen the stain.
Therefore, it is always the best choice to hire an upholstery cleaning service provider that helps improve the condition of your damaged or stained upholstery. They have full proof knowledge and trained professionals that help provide the right treatment for each upholstery as per their material and type.
So next time you have an upholstery to clean, it's better you consider a professional and certified upholstery cleaning company in Dubai that will help you enhance the outlook of your damaged upholstery or even to make it look new.